The Abbey is the site of a Cistercian community of women founded in 1127 A.D. The Cistercians were an order of monks and nuns dedicated to St. Benedict. Situated on 75 acres of parkland with a natural pond, the buildings have been lovingly restored over the past 40 years by the landlord, a devoted historian.

Hoping to gain redemption for having turned away his daughters, Roger de Mowbray, a powerful Anglo-Norman landlord, founded in " Villers le Quennyvet" a women's priory in 1127. The nunnery was elevated to the rank of Royal Abbey during the XVIIth century and gradually fell into ruin until it was reconstructed.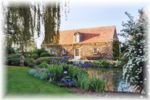 Placed in an outstanding location by a pond, Royal Woods, and a Roman Way, the Abbey has maintained an exceptional rural character typical of Cistercian communities with several buildings contained within long enclosure walls : the gate house - remains of the cloister - the tithe barn - living quarters of the monks - vaulted galleries... The most remarkable building is the entrance to the Abbey. Today this beautiful structure (XIIIth century) with its pedestrian and carriage passages is the only remaining example of a medieval portal of all the Cistercian Abbeys in France !
The atmosphere and charm of the Abbey will make lasting impressions on our visitors.

Hours of Operation and How to Contact Us
Individuals
May, June and September : guided tours everyday from 2 p.m to 6 p.m except on Monday and Tuesday.
July and August : guided tours everyday from 2 p.m to 6 p.m except on Tuesday.
Adults : 4 euros - Children (6-15) : 3,80 euros - free for children under 6.
Group tariffs
Open all year-round by reservation from 9 a.m to 6 p.m
Guided tour (1 h 15) : 3,80 €
Snack "Teugoule" (without guided tour) : 7,50 €
Snack with guided tour : 9 €
Group tariffs apply to groups of at least 25 people - Coach : free entrance for the driver - Free entrance for the escort of groups of more than 25 people

To contact us
Phone : 00 33 (0)2 31 90 81 80
Email : abv.canivet@wanadoo.fr

Postal address:
Abbaye aux Dames
14420 Villers-Canivet
France
How to get to the Abbey